Innovative dual-filtration system that includes a charcoal pre-filter and a high-efficiency HEPA grade filter, the Purifan System effectively circulates and recycles air throughout an entire room.

The Purifan System is so efficient, an average 20' x 20' room enjoys a complete change of air more than 40 times an hour. That's a minimum of 2,000 cubic feet of fresh air moving every minute.

The Purifan unit uses the ceiling fan as a motor. Manufactured for use on 200 RPM, 52", 5 blade ceiling fan. If a new ceiling fan is needed, we recommend Lowes Harbor Breeze or Builders Best #53606.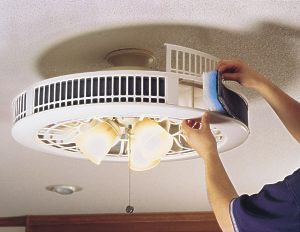 Removes particles as small as
.03 micrometers in diameter